South Coast guided private tour for individuals, families and small groups.
Your South Coast day tour begins in Reykjavik where you will be picked up at your location. From there we head to the east at the Ring road that stretches along the South Coast of Iceland. The tour takes about 10 hours
On the South coast day tour we will visit:
Sólheimajökull glacier, short walk to the edge of the glacier where you can touch about 500-year-old Ice.
Coastal cliffs and spectacular rock formations at Reynisfjara beach where Puffins nest in the summer.
Visit Dyrholaey Nature reserve and birds sanctuary where Arctic Terns and Puffins nest in the Summer
The village Vík, the most southerly point of Iceland with black sand beaches and dramatic landscapes.
Seljalandsfoss, a waterfall that you are able to walk behind.
The thundering Skógafoss waterfall about 200 ft high.
On the tour are many stops during the day to photograph the wonders of nature and stop for lunches provided, the price for lunch is not included.
The tour takes us East from Reykjavik along the Ring road through moss covered lava fields over the volcano Hengill and down on to the South coast of Iceland. The South coast is the longest coastline of Iceland, stretches about 300 miles and is also the largest farmlands in the country where most of the farm products are made.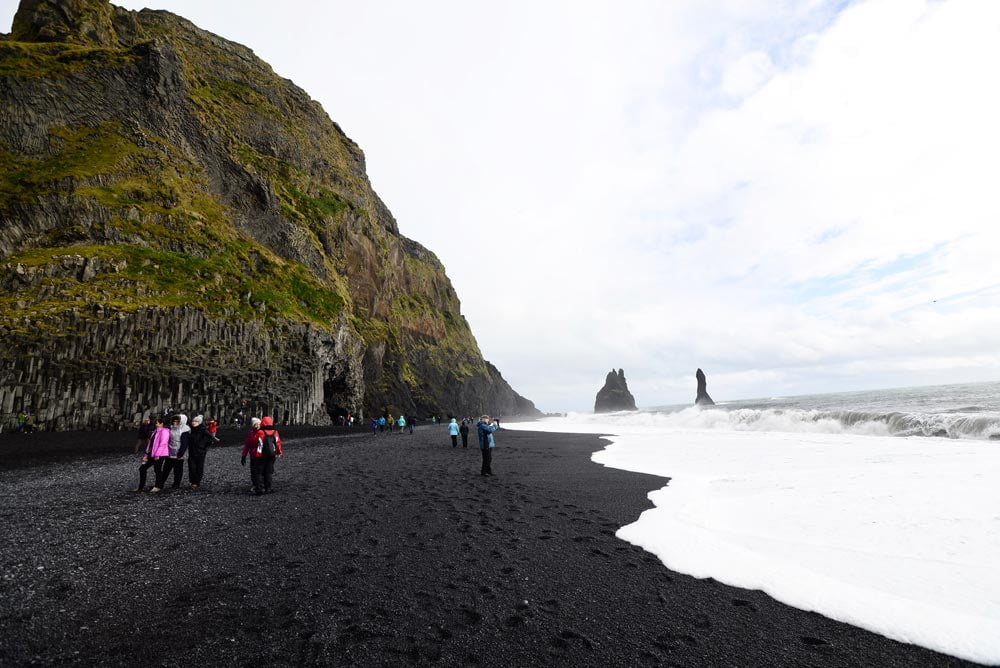 The Amazing South Coast with Black Sand beach and Basalt Cliffs.
On the tour, we drive between many small farms, towns, and villages spread along the South coast with black sand beaches and surrounded by mountains, volcanoes, and glaciers. We drive by Eyjafjallajokull volcano that erupted in 2010 where two of the waterfalls we visit, Skogafoss and Seljalandsfoss (foss is waterfall) come from the melting glacier cascading about 200 ft down surrounded with breathtaking landscape.
We visit the village Vik and Reynisfjara with black sand beaches and dramatic landscape of mountains and basalt hexagonal cliffs formations, Dyrholaey nature reserve and birds sanctuary. The volcano Katla is one of the biggest volcanoes in Iceland and is covered with the about 2000 ft thick glacier.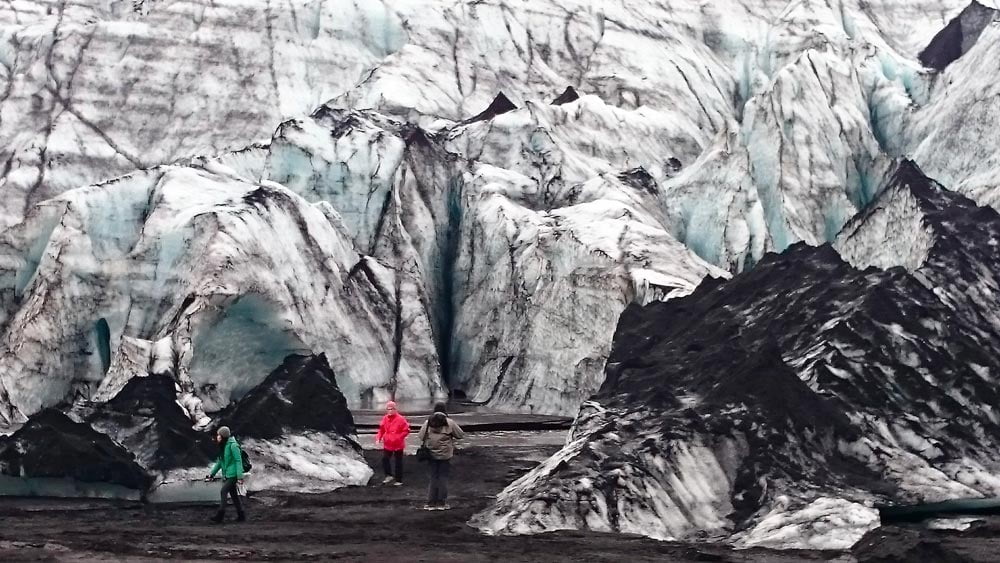 On the South coast tour are optional stops or activities:
Visit to the Volcano exhibition at Thorvaldseyri farm next Eyjafjallajokull
Walk to the Airplane situated on Solheimasandur
2 hours Glacier walk at Solheimajokull glacier
Visit Skogasafn municipality museum
Paragliding at Reynisfjall, (in the summer)
Snowmobile ride on Myrdalsjokull
Please contact Thorstein tgk@saltytours.is for booking or more information